Uganda is home to the largest population in the world of endangered mountain gorillas, as well as chimpanzees, 11 other primate species, and flagship species including elephants, lions, leopards, cheetah and pangolins. Uganda's landscape ranges from the rugged isolated wilderness of the north-east, to the lush bamboo vegetation of the south-west and steamy central African rainforest along the border with the Democratic Republic of Congo.
Wildlife is the backbone of Uganda's tourism industry, which provides about 8% of the country's jobs and supports many more, such as farmers who grow the food that tourist lodges serve. Before the COVID-19 pandemic, tourism was generating about $1.6 billion a year for Uganda and was the country's largest foreign exchange earner.
In recent years, Uganda has fought hard to reduce wildlife poaching within its borders and to reverse its reputation as a hotspot for the smuggling and trafficking of illegal wildlife products to Asia. All wild animal species are protected under Ugandan law and a new wildlife act introduced in 2019 sets out extreme prison and monetary penalties for wildlife crimes.
Wildlife benefits and pride
For Ugandans to be invested in wildlife conservation, we believe that there needs to be a greater appreciation of the benefits that wildlife provides – economic, ecological and as part of the nation's heritage. Through poster, billboard and video campaigns, as well as a mini-documentary series about unsung conservation heroes, we are aiming to raise awareness of the value of keeping wildlife alive.


Uganda Wildlife Act
We are working hand-in-hand with our partners, Uganda Wildlife Authority, to increase Ugandans' knowledge of penalties for wildlife crime as laid out in the new wildlife act, and to explain the reasons for these laws. Our campaign so far has included video and radio messages, a poster campaign in 11 Ugandan languages, as well as a radio drama series and animations.​
Did you know that all wild animal species are protected under Ugandan law? By killing, transporting, eating, buying, selling, or trying to keep them as pets you could find yourself in big trouble, and end up damaging Uganda's culture, communities and environment.
Eliminating wildlife trafficking
WildAid, in partnership with the United Nations Development Programme (UNDP), has enlisted popular footballers to front a campaign to increase awareness and understanding of the problems caused by wildlife trafficking across East Africa. We want the people of Uganda, Kenya, Tanzania -- and in particular port workers in those three countries -- to "join our team" by reporting and combating wildlife crime.
Educational resources
We have also produced materials aimed at children, including posters for schools and a comic book which is being distributed to to more than 20,000 children.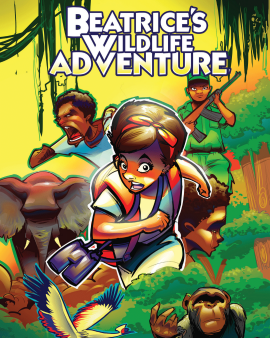 Read more about how Beatrice's Wildlife Adventure takes students on a journey into the wild -- and teaches them that they too can contribute to conservation. 
Reducing human-elephant conflict
As human and elephant populations grow, the need for resources pushes the two species closer and closer, resulting in confrontation. This often takes the form of "crop raiding," which is bad news for farmers and can often spark retribution against elephants. WildAid has been working in conjunction with a community in Uganda and a design team to develop a new, sustainable way to mitigate the problem.
The "smelly" elephant repellent uses ingredients grown across most of Africa and Asia, including chili, garlic, and ginger, to create a potent stinky liquid that can sprayed on or around crops to keep elephants away. Invented in Uganda, it's a chance to change the game and improve relations between elephants and their human neighbors.
We have already tested the repellent in Uganda and Kenya and found it really does work. 
Read more here: