Inaugural Uganda Conservation Media Awards ceremony held
The Uganda Wildlife Authority (UWA) and WildAid have announced the winners of the inaugural Uganda Conservation Media Awards, rewarding outstanding reporting about wildlife conservation and environmental issues in Uganda.
Recognizing the critical role the media plays in raising awareness, the awards aimed to encourage, motivate and inspire journalists to produce the best in conservation reporting. The response was very encouraging.
"These awards represent far more than a recognition of talent; they are a testament to the potential of media to drive the conservation agenda," said UWA Executive Director Sam Mwandha. "The stories the photographs and the documentaries that grace our newspapers, radios, television screens and websites serve an educative role and are a powerful reminder of the urgent need to protect our natural world."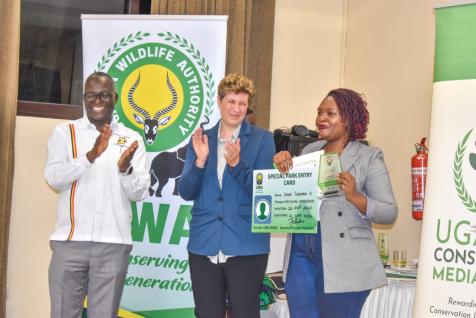 The awards are embedded in a vision of stimulating debate about nature and conservation.
"This dream, this vision of recognizing outstanding journalists for their dedication to conservation reporting was born out of a deep-seated passion for our natural world," said Bashir Hangi, UWA's manager of communication and public relations. "We pay tribute to all the journalists who took time and submitted entries. We see a future where conservation issues will take their rightful place in the minds of all Ugandans."
The eventual winning entries tackled a broad range of important conservation, wildlife and environment issues, reflecting the many conservation challenges Uganda faces but also telling the stories of the passionate and dedicated people working across the country to overcome them.
Winners also came from a wide variety of different media outlets, from established media based in Kampala to up-country local radio stations.
"It was an extremely competitive field of entries, and in some cases really hard to decide on a single winner," said Simon Denyer, Africa Program Manager at WildAid and one of the judges. "I was encouraged to see so many important issues tackled and such a broad range of journalists entering. I would like to thank everyone who took part, and especially congratulate the winners."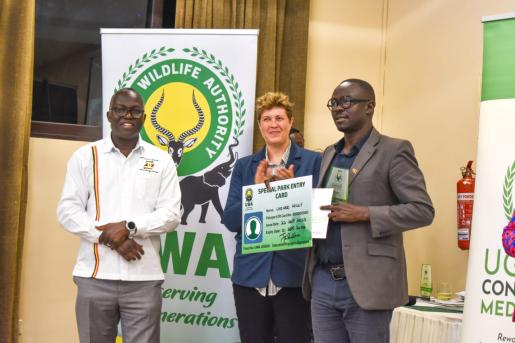 A panel of four judges received more than 140 entries across 13 categories, and spent weeks carefully considering and marking each entry according to clearly defined criteria, acting completely independently. Marks were then tallied, and winners determined on the basis of the highest marks obtained.
The winners were as follows:
Community conservation, print/online.
Gerald Tenywa, New Vision, Gorillas give dollars to Kanungu, Kisoro residents.
Community conservation, radio (tie, award shared).
Denis Omony, 102 Mega FM, Impact of revenue sharing on communities around Murchison Falls National Park.
Odota Adubango Moureen, Voice of Lango FM, Lango communities plant trees for charcoal, firewood to save endangered species.
Community conservation, television/video.
Simon Chris Makanga, Athari Media Support Africa (AMSA), The invisible climate activists.
Wildlife protection, print/online.
Timothy Murungi, New Vision, Bwambale: Reformed poacher preaching conservation.
Wildlife protection, radio.
Michael Wambi, Uganda Radio Network, Earth Day 2023: Ugandans who have tirelessly fought to protect our wildlife.
Wildlife protection, television/video.
Leon Ssenyange, China Global Television Network (CGTN), Uganda lion population under threat.
Wildlife crime, print/online.
Edward Anyoli, New Vision, Why Uganda is a haven for wildlife traffickers.
Wildlife crime, radio.
Peter Labeja, Radio Rupiny, Distant justice: Last agony of former poachers in Nwoya district.
Wildlife crime, television/video.
Richard Olweny/David Ochieng, NBS Television, Baboons being poached for rituals.
Habitats and environment, print/online.
Diana Taremwa Karakire, freelance, Oil money heralds trouble for Uganda's indigenous Bagungu tribe, environment,
Habitats and environment, radio.
Chowoo Willy, Choice FM, Climate change causing increased spread of invasive species in the national parks.
Habitats and environment, television/video.
David Ssozi, News 24/7, Bees, hunger and Kampala's air pollution.
Wildlife photograph of the year.
Atuhairwe Nelson Nelytiez, HD Media, Save elephants.
Winners were given a cash award of UGX 5,000,000, a winner's plaque, certificate and free entry to Uganda's national parks for one year.
We congratulate all the winners.