Cameroon's traditional leaders are coming together to help protect the country's forests and wildlife that are considered the cornerstone of Cameroon's cultural heritage. The message is clear: say no to pangolin meat.
Respected Cameroonian traditional leaders have joined forces with WildAid to call for the protection of the country's forests and the wildlife species that live there such as the endangered pangolin. 
Nkukuma Mvondo Bruno, Notable Mamoudou Kaïgamma, Muanedi Dissake Mouangue, Fon Zofóa III, Son Altesse Royale Essombey Ness, and Prince Tatsitsa Théophile Gha have all lent their support to the campaign to "say no to pangolin meat." 
Pangolins are considered vital guardians of Cameroon's natural heritage due to their crucial role in maintaining the health of the country's forests. Cameroon's forests are not only important for the survival of the pangolin but also for the survival of the country's people. They provide resources that are essential to the daily life of millions of Cameroonians who rely on forests for food, and for medicine to treat various illnesses including malaria and cancer. Forests are also intimately linked to their traditional practices and cultural identity.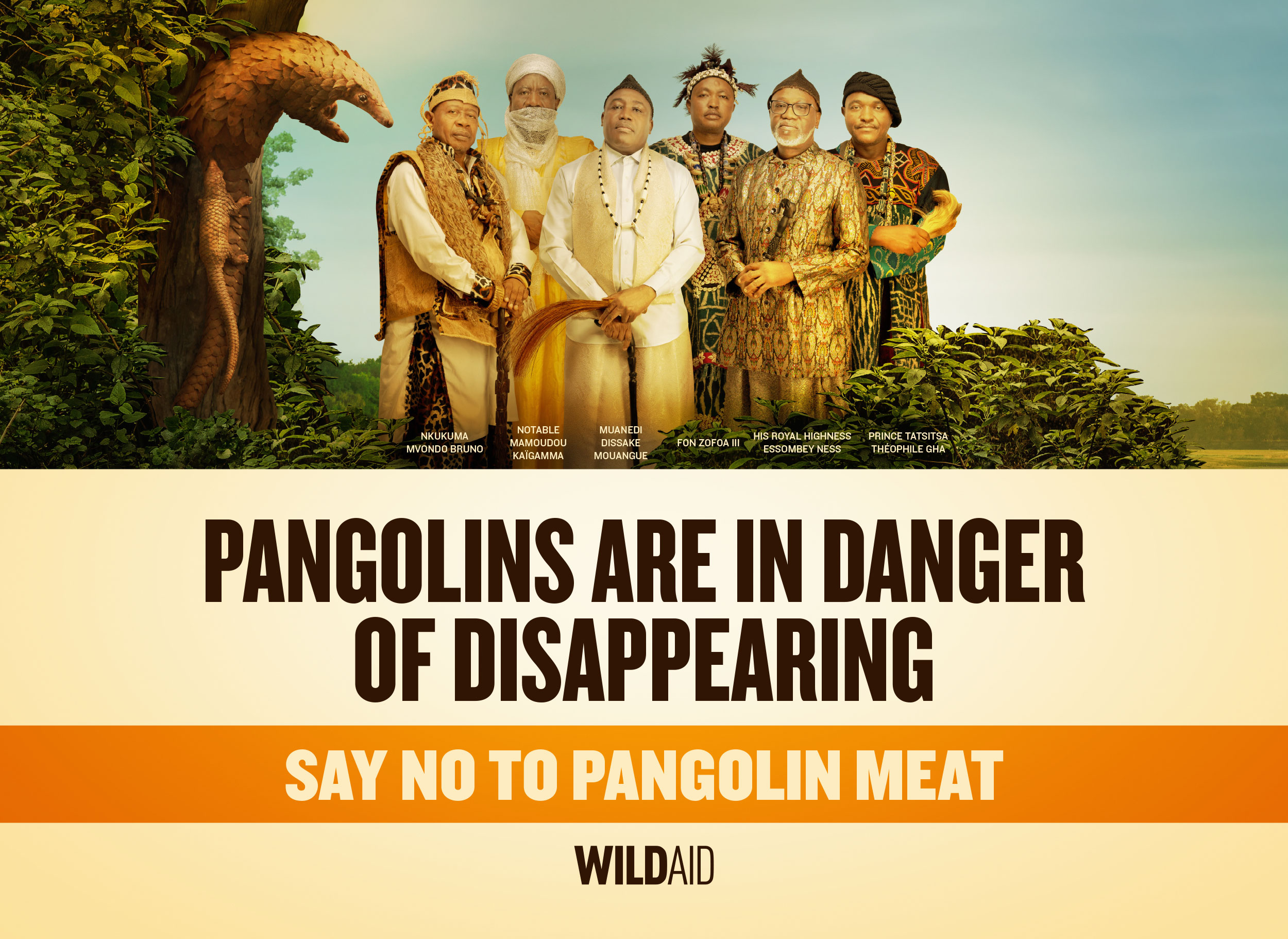 "Our story began in the vast and wild forests of Cameroon, where animal life flourished and Mother Nature ruled," said Customary chief of Bonamoukouri-Bonakouamouang, Littoral Region, Muanedi Dissake Mouangue. "She fed us, she cherished us, she healed us. Now, we have to defend her, and protect every wild animal that is part of her."  
The appeal from Cameroon's traditional leaders forms part of the "Say No to Pangolin Meat" campaign which was launched in 2022 with football legends Rigobert Song, Roger Milla and Patrick Mboma backing the campaign, along with leading musicians Stanley Enow and LOCKO, and visual artist Bright Toh. The campaign aims to raise awareness of the crucial role pangolins play in maintaining a healthy environment and emphasises Cameroon's potential to become a leader in African conservation by protecting these unique animals. The campaign is running in Douala, Yaoundé, Mbalmayo, Ebolowa and Bertoua. 
Cameroon is home to three pangolin species: the giant pangolin, the white-bellied pangolin, and the black-bellied pangolin. However, they are increasingly threatened with extinction due to poaching and deforestation. Pangolins are the world's most trafficked mammal, and their meat is often sold in local bushmeat markets.  
In 2017, the government of Cameroon banned the hunting, capture, killing and trade of all pangolin species.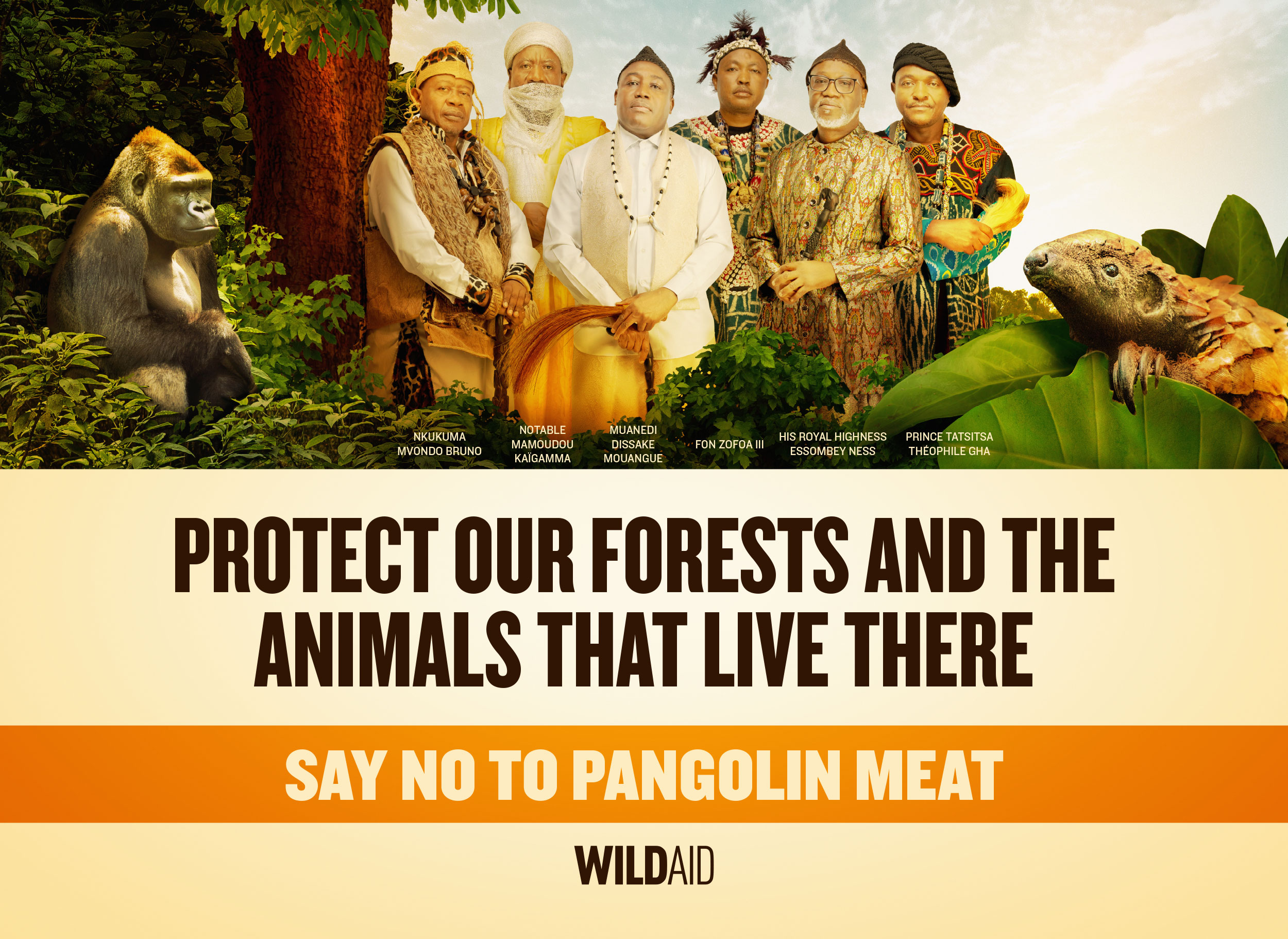 "Our culture teaches us to respect nature and honor our traditions," said Customary Chief of Minkok-Bityili, South Region, Nkukuma Mvondo Bruno. "Pangolins are a symbol of our incredible, unique forest, Cameroon's heritage and a pillar of who we are. Eating pangolins will lead to their extinction, and thus the extinction of a symbol of our culture. Let's protect our forests and the wildlife that lives there. And let's start by saying NO to pangolin meat."  
Pangolins are vital to the forest ecosystem, and help control pests which can also cause significant damage to farming crops. A single pangolin can consume up to 70 million ants and termites in a year, which equates to nearly 200,000 insects per day. By consuming these pests, pangolins help to regulate insect populations and protect the agriculture sector in Cameroon that employs approximately 43% of the country's workforce and provides livelihoods for an estimated 70% of the population. 
"The pangolin, being a protector of our forests and soils, must be safeguarded to avoid damaging the environment and prevent loss of our cultural identity," said Jennifer Biffot, Francophone Representative for WildAid in Central Africa. "Every living creature found in Cameroon is an integral part of its culture and tradition. We must realise the significance of protecting pangolins, or risk losing much more than what we imagine."