Join our team and help report wildlife crime
Wildlife crime doesn't just kill millions of wild animals a year, it threatens millions of jobs and livelihoods in East Africa. Join Alex Iwobi, Victor Wanyama, John Bocco and Bevis Mugabi's team against wildlife crime and report information and suspicious activity.

East Africa's amazing wildlife helps draw more than 5 million tourists a year to Tanzania, Kenya and Uganda. Tourism accounts for between 8 and 17% of GDP in the region. It provides at least 1.5 million jobs in Kenya, a similar number in Tanzania, and another 600,000 jobs in Uganda.
But these countries' proud natural heritage, and their people's jobs, are under increasing threat. Demand for illegal wildlife products, especially from Asia, has fuelled a surge in the illegal hunting and harvesting of African animals. Organised criminal gangs are making huge amounts of money for themselves, but in the process are stealing from all Africans.
Many illegal wildlife products, such as elephant tusks and pangolin scales, are too bulky to send by air. Gangs prefer to send consignments by sea, hidden inside shipping containers.
This campaign aims to raise awareness amongst people working in the shipping sector about wildlife crime and wildlife trafficking, about why it is important, and about what they can do about it.
In conjunction with the Government of Uganda, Uganda Wildlife Authority and Uganda Revenue Authority, the #DefendOurWildlife campaign was launched in Kampala. With over 65 people in attendance, including over 30 representatives from the media, speakers included the State Minister of Tourism, Wildlife and Antiquities, Hon. Martin Mugarra Bahinduka; Ambassador Natalie Brown from the US Mission in Uganda; Mr John Makombo, representing the Executive Director of Uganda Wildlife Authority and; Mr Geofrey Balamaga, the acting Commissioner Enforcement from Uganda Revenue Authority.
The Tanzanian government, WildAid and the United Nations Development Programme hosted a media event for the #DefendOurWildlife campaign in Dar es Salaam. The campaign aims to bring an end to the illegal trafficking of wildlife through East Africa's ports and cargo terminals, supported by international football stars, WildAid celebrity ambassadors, and our conservation partners.
Ports visibility campaign
This campaign is specifically targeting cargo and shipping sector workers. People in Kenya, Tanzania and Uganda are being asked to join the campaign by looking out for wildlife products concealed in cargo shipments. Materials have been distributed at Mombasa and Dar es Salaam ports.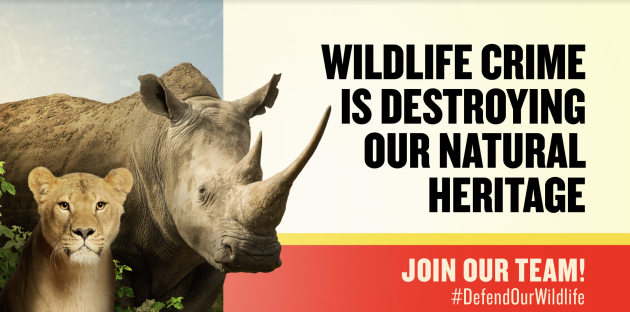 To raise awareness on the issue of wildlife crimes conducted through East African ports, we need to reach as many people as we can. We need your help in doing so!
Visit the #DefendOurWildlife social media resources page, and use your social media platforms to help spread the word.
This campaign has been designed under the United Nations Development Programme (UNDP), Global Environment Facility (GEF) and US Agency for International Development (USAID)  'Reducing Maritime Trafficking of Wildlife between Africa and Asia' project. The project is financed by GEF and USAID and led by the World Bank's Global Wildlife Program.