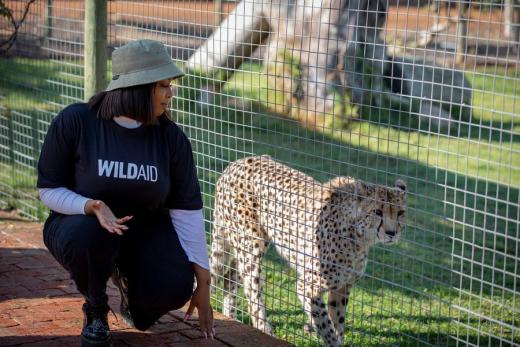 Cheetahs are going extinct. There are only around 7,100 cheetahs left in the wild and the population is declining. With climate change and population growth putting increasing pressure on the environment, cheetahs face unprecedented threats to their survival.
Award-winning singer-songwriter and WildAid South Africa Ambassador, Shekhinah, visits Ashia Cheetah Centre outside Paarl in the Western Cape province of South Africa to learn more about the plight of cheetahs in Africa and around the world, and to add her support to help protect Africa's most threatened big cat.
Watch our WildAid cheetah mini-documentary as Ashia volunteer, Asandile Mxabo takes Shekhinah through the Ashia Cheetah Centre to learn more about the urgency to protect cheetahs:
Shekhinah visits Ashia Cheetah Centre to support protecting Africa's most threatened big cat
Ashia Cheetah Centre has played a substantial role in the funding and coordination of cheetah reintroductions in southern African countries to promote the long-term survival of the species in many new regions.
To prevent the further decline of the species, Ashia Cheetah Center is successfully reintroducing carefully chosen cheetahs to game reserves and national parks.
"We really need places like Ashia to help with the rehabilitation and reintroduction of cheetahs," says Asandile Mxabo, a conservation student and volunteer at Ashia where she works in animal husbandry and camp maintenance.
"The most important thing that I would love to share with everyone is how rare cheetahs are and how few of them are left," says Shekhinah. "But really the important thing is to try and spread the message of giving cheetahs some space and letting people know that this wonderful animal that we know and love is actually in a lot of danger."
Here are five ways you can help protect declining cheetah populations and #GiveCheetahsSpace