Nigeria was once home to rhinos, giraffes and cheetahs,  but sadly due to habitat destruction and poaching, they have become extinct here. But all hope isn't lost as Nigeria still has iconic wildlife species such as lions, elephants, Cross River gorillas, Nigeria-Cameroon chimpanzees. There are about 50 lions, fewer than 500 elephants, around 100 gorillas and between 1,400 to 2,300 chimpanzees surviving today.
Despite local conservation efforts to protect Nigeria's wildlife, growing threats from poaching for body parts and meat to habitat loss from deforestation, infrastructure development, and agricultural expansion continue to pose a huge threat to wildlife here.
Growing demand for bushmeat among urban residents in major cities such as Lagos, Abuja, Port Harcourt, and Calabar remains one major threat that needs to be addressed urgently, as is the use of Nigeria as a transit hub for the illegal trade in protected species like elephants and pangolins. Nigeria was linked to about half of all pangolin scale seizures globally between 2016-2019. While wildlife laws and penalties were upgraded in 2016, they are often poorly understood by the public and law enforcement officials and frequently go unenforced by authorities.
A survey conducted by WildAid in 2020 found that urban bushmeat consumers feel positively about Nigerian wildlife (specifically elephants and lions); 70% of people think that the animals should be protected and 60% see them as important for their national heritage. In addition, urban consumers are also worried about the impact of bushmeat consumption on wildlife populations and 38% indicated concern about animals going extinct in the wild as one of the top reasons why they would consider avoiding bushmeat consumption.
WildAid has responded with the most extensive wildlife awareness program in Nigeria, designing behaviour change communications materials that will inspire Nigerians to protect wildlife and raise awareness about wildlife laws and the wider implications of the illegal wildlife on Nigeria's reputation and its wildlife.
Public awareness can turn the tide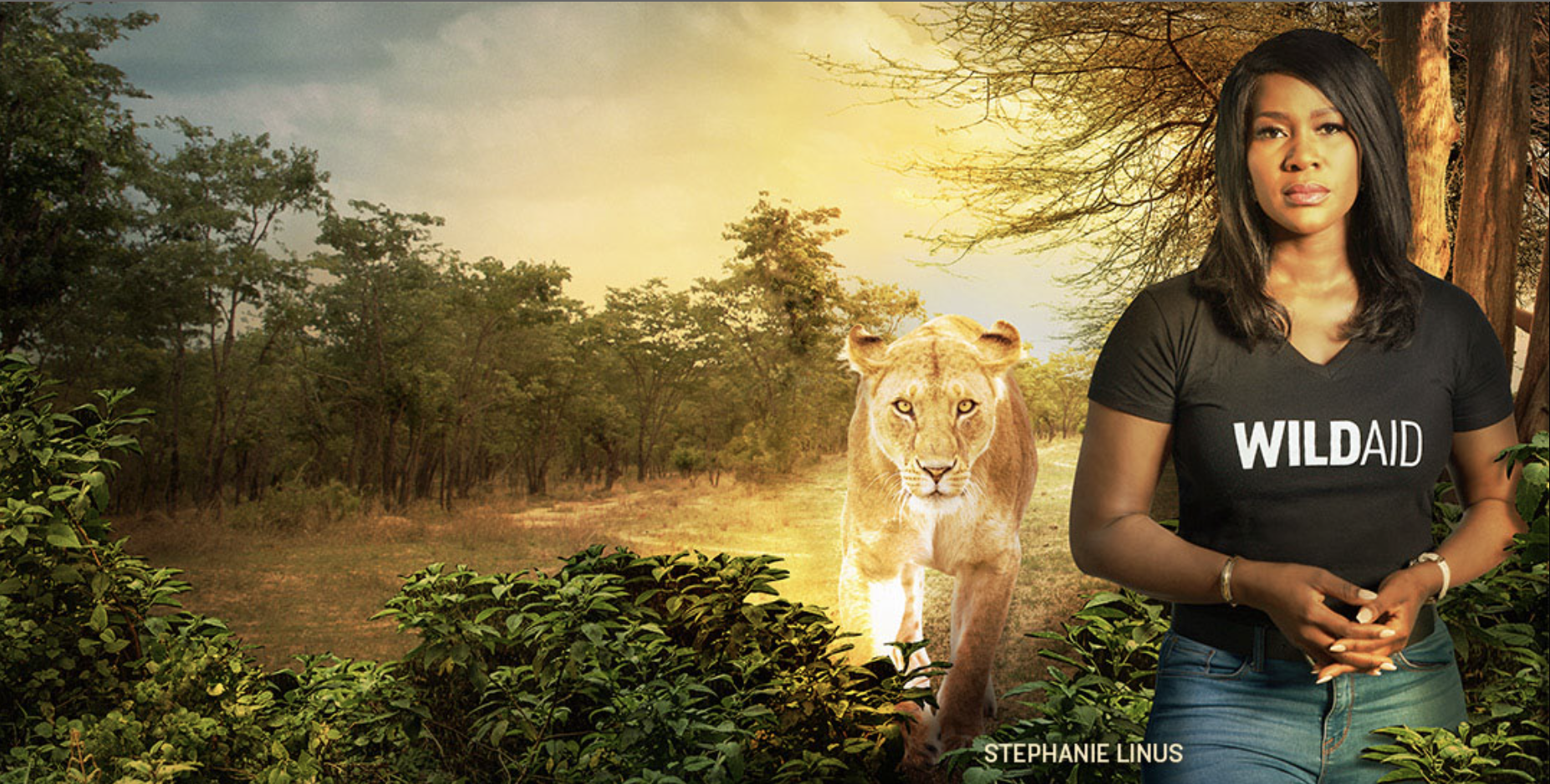 Using a wave of materials like billboards, short videos, TV and radio series, and mini-documentaries spotlighting local conservation heroes, WildAid is increasing awareness of the positive and prominent roles of wildlife in economies, ecosystems, and cultures while emphasizing the dangers of the commercialised bushmeat trade and the consequences on public health, economic security and the environment starting with Lagos, Abuja, Port Harcourt and Calabar.
WildAid continues to produce videos featuring influential ambassadors and have so far made films with Afrobeats star Davido, Everton FC football player Alex Iwobi, Nollywood movie star Stephanie Linus, comedians Emanuella and Josh2Funny as well as Sharon Ikeazor, Nigeria's Federal Minister of Environment and Prof. Akin Abayomi, the Commissioner for Health of Lagos State.
Go Wild and Wildlife Weekly
WildAid started Go Wild, a weekly docu-series on Arise TV, an international TV news channel focused on Africa, as well as Wildlife Weekly on Yabatech Radio 89.3FM, Lagos to bring more wildlife-focused shows and programming to millions of Nigerians.
Strengthening enforcement of wildlife laws
WildAid has formed partnerships with government agencies, the Nigeria Inter-Religious Council and other environmental nonprofit groups to publicize existing laws and penalties for killing, trading or consuming key high-risk species. We are also working with government agencies involved in enforcing international and national wildlife laws in an attempt to foster greater cooperation in tackling the problem of illegal bushmeat consumption.
WildAid is working with the Lagos state government to update its wildlife protection laws and with Nigeria Customs Service and the National Environmental Standards and Regulations Enforcement Agency to amplify its efforts to tackle the illegal wildlife trade. As part of our communications plan, we want to celebrate successful efforts by local authorities such as the interception of illegal wildlife products, raids on bushmeat markets and poachers. But it is equally important to publicize commitments by enforcement agencies to the general public and hold stakeholders accountable.
Media partnerships
To amplify campaign messages, WildAid is working with national media organizations in Nigeria, including Arise TV, Silverbird TV, Rhythm FM, Yabatech Radio, Soundcity FM, Trace TV West Africa, NTA, The Guardian, Business Day, Daily Sun, The Punch, New Telegraph and Daily Trust Newspapers.  
Addressing alternatives to bushmeat
WildAid is working with Amo Farm Sieberer Hatchery, a chicken hatchery and distributor, to promote village-raised hybrid chicken as an alternative to illegal bushmeat for suppliers and consumers in Nigeria and across Africa. The village-raised chicken known as "Noilers" will be promoted in the media and to policy makers as a source of rural income and protein, and as an alternative to illegal bushmeat.