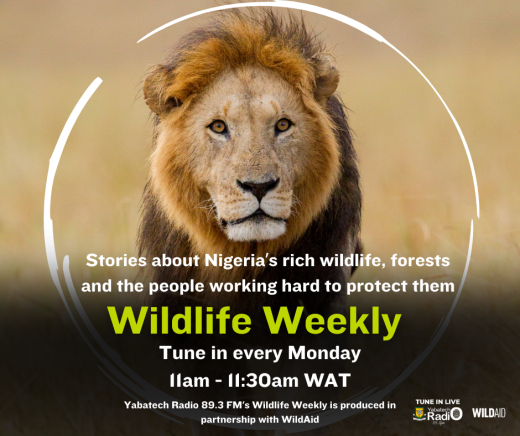 As part of its mission to increase awareness of wildlife conservation in Nigeria, WildAid's radio partner, Yabatech Radio 89.3 FM has launched the second season of Wildlife Weekly, a weekly show about Nigeria's rich biodiversity.
The second season will feature episodes on  African forests elephants, African manatees, the illegal bushmeat crisis, and the unsung heroes protecting wildlife in Nigeria.
Season two will include on-the-ground reporting from a rainforest, bushmeat market, and wildlife sanctuary. And for the first time, Wildlife Weekly will be syndicated across digital platforms of Apple podcast, Spotify, Anchor, and Google Podcasts.
Radio continues to be one of the prominent communications mediums across urban and rural Nigeria. In Lagos, Nigeria's commercial city, radio is enormous and often part of the resident's daily routine, especially during early morning, mid-day, and late evening traffic.
Live debates, sports, politics, pop culture, and entertainment are mainstream topics that are aired regularly. Wildlife conservation content is generally rare on Nigerian radio. The general public gets access to wildlife-focused content only during breaking news leading to seizures of illegal wildlife products. As a result, the general public's knowledge about Nigeria's environment and wildlife conservation is limited. WildAid is slowly changing the status quo.
In 2021, WildAid partnered with Yabatech Radio 89.3FM, a radio station in the heart of Lagos' growing tech city, Yabacon Valley, with access to two student campuses. Wildlife Weekly, which aired every Monday at 11 am (West African Time), first premiered in July 2021 and brought more wildlife-focused radio shows to millions of Nigerians.
The first season focused on Nigeria's rich biodiversity, national parks, forests, wildlife sanctuaries, and the people protecting them across 13 episodes. Weekly quizzes, wildlife facts, quotes, and live calls from the public are featured on the program to facilitate audience engagements.
"Wildlife Weekly season one was good. Even though the content and message were new on radio, we were still able to educate quite a lot of young Nigerians on wildlife conservation, bushmeat consumption, and all that. We had the quiz segment, which our listeners look forward to every episode. Season one was educative and eye-opening," said Abiodun Ajibade, Yabatech FM Station Manager.
In Nigeria, there's a huge knowledge gap on Nigeria's fantastic biodiversity, wildlife conservation, and illegal wildlife trade. The first season successfully introduced Nigerians to wildlife-focused content. The live call and weekly quizzes rewarded audience learning with amazing prizes and endeared the program to more weekly listeners.
Nigeria has become a transit hub for illegal wildlife products exported to Asian countries over the past decade. In addition, there's a growing appetite for bushmeat consumption across major cities in Nigeria. Sadly, the consumption of illegal bushmeat risks introduces zoonotic diseases such as COVID-19 and Monkeypox into urban centers. The general public is unaware of these risks, and awareness is still in its infancy. Also, while there are laws that ban bushmeat in Nigeria, they serve as a little deterrent for criminals, and law enforcement is poor.
Additionally, the issues affecting wildlife in Nigeria need more awareness; therefore, there is a need for more content focused on educating the general public while encouraging local conservation efforts. With season two set to premiere in August, Yabatech and WildAid will explore on-ground reporting on wildlife conservation and the people protecting them across Nigeria.
"Season two promises to be exciting and educative," says Deborah Oiza, Wildlife Weekly presenter. "There will be more engagements with young persons who will be the major focus of the season via live discussions on radio, phone-in, vox pops, etc."