The hippopotamus holds a special place in cultures across Africa, inspiring tales and legends, and being recognised as sacred animals. In this blogpost, we explore the cultural significance of the hippopotamus and how, even today, many communities continue to hold hippos in high regard.
Uganda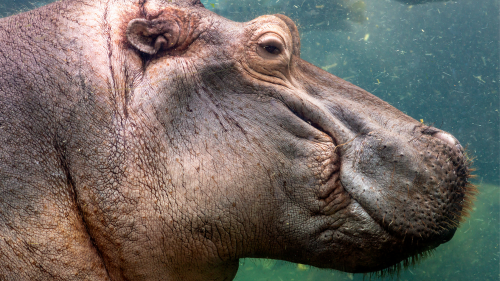 In Uganda, the hippo is revered and respected, and many local people believe that it is a sacred animal with spiritual powers, and that hippos can provide protection to those who live near their habitats. It is believed that the large animals can ward off evil spirits and bring good luck to communities. The hippopotamus is believed to possess spiritual powers over rivers and lakes. In some communities, it is believed that the spirits of hippos reside in the waters and can influence the water's behavior and quality. Hippos play a significant role in the livelihoods of many communities living near the waterways where they reside by improving water quality. Waste produced by hippos is rich in nitrogen and phosphorus, which are essential nutrients for aquatic plants. As hippos move through the water, they stir up the sediments on the bottom, helping to mix the water column and promoting the exchange of gases like oxygen and carbon dioxide. This contributes to a healthy water ecosystem which helps increase fish populations, vital for livelihoods for many fishing communities, who rely on fishing in the rivers and lakes where hippos live. Additionally, the large herbivores are a major tourist attraction and provide a source of income for local communities through ecotourism and wildlife-based tourism.
Ancient Egypt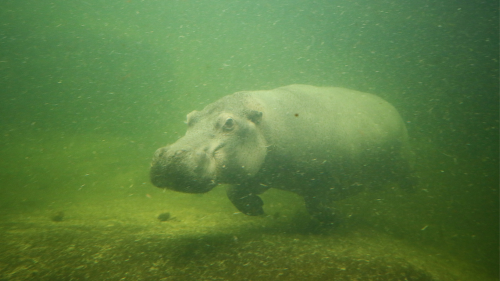 In ancient Egypt, the hippopotamus was revered as a sacred animal and was worshipped as a deity. The goddess Taweret, for example, was depicted as having the body of a woman, the head of a hippopotamus and the tail of a crocodile, and was considered to be the protector of women and children. The Nile river was not only seen as a source of life, but it was also home to the hippopotamus. The presence of these massive animals in the Nile was seen as a symbol of the river's power and fertility, and the cycle of their disappearing and resurfacing was associated with the idea of regeneration and rebirth. Hippos were often depicted in art as fierce guardians of the Nile river, with their powerful jaws and sharp teeth serving as a warning to intruders. However, hippos can't swim. When you see a hippo in water, it is actually balancing on its toes or standing on a sandbank. Hippos need to come up out of the water every 3-5 minutes to breathe.
South Africa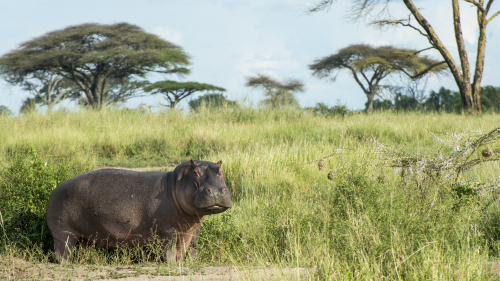 Huberta the Hippo was a famous and well-traveled hippopotamus who lived in South Africa in the early 20th century. In 1928, Huberta set out on a journey from the Umfolozi River, wandering south on her own along the coast of South Africa. Over the next two years, she traveled more than 1,600km, stopping at farms and towns along the way and becoming a local sensation. People were amazed by the sight of the hippopotamus, and they soon began to tell stories and sing songs about her adventures. In 1930, Huberta finally reached the town of Cape Agulhas, the southernmost point of Africa. From there, she turned around and began her journey back to the north. Unfortunately Huberta was shot and killed by farmers after she was spotted grazing. The issue of human-hippo conflict continues to be a big concern today due to the depletion of habitats and the demand for natural resources.
West Africa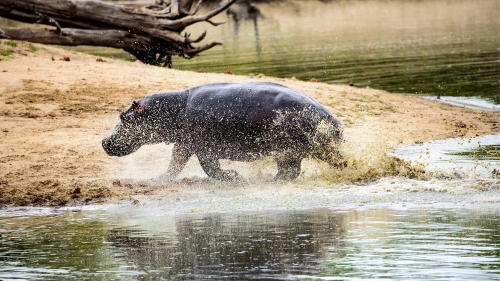 In West African folklore, the hippopotamus is depicted as a mischievous animal in stories from countries such as Nigeria, Ghana, and Ivory Coast. For example, in Yoruba folktales from Nigeria, the hippopotamus is portrayed as a trickster figure who enjoys playing pranks on other animals and humans. The hippopotamus is also a popular character in Akan folktales from Ghana, where it is known for its cunning ways. In Ivorian folktales, the hippopotamus is often depicted as a fierce and powerful animal that uses its size and strength to intimidate other creatures. Hippos are some of the largest land mammals in the world, and they can grow up to 4.5 meters long and weigh as much as 3,600 kilograms! But despite their heft, they are surprisingly nimble, with the ability to unleash speeds of up to 48 kilometers per hour when threatened.