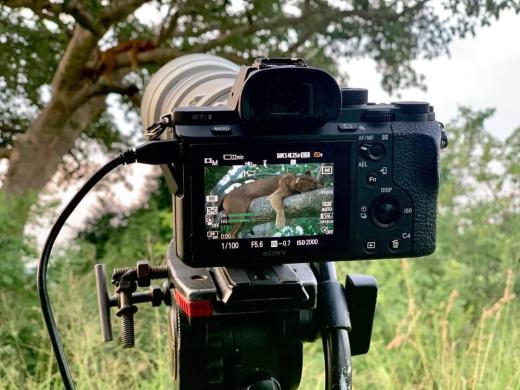 Image credit: Uganda Wildlife Authority 
Uganda is a country rich in biodiversity and home to many endangered species, from gorillas to crested cranes. However, like many other countries, Uganda's wildlife is under threat from the illegal wildlife trade, habitat destruction and climate change. Nevertheless, journalists in Uganda have the power to play an important role in raising awareness and promoting the protection of wildlife in the country.  
With the support of various organisations, such as the Uganda Wildlife Authority (UWA), journalists are able to use their skills and platforms to bring attention to the most important issues affecting conservation. Recognising the critical role of media, Uganda Wildlife Authority and WildAid established the inaugural Uganda Conservation Media Awards in 2023 to encourage, motivate and inspire journalists to produce the best in conservation reporting.
Here are ways Uganda's media can play a role in conservation:
Community conservation. Journalists reporting on community initiatives can help create a culture of conservation in Uganda by spreading the word about successful projects and inspiring people to have a positive impact on the environment around them. It's not just about reporting the news; media also provides a voice for local communities. Reporting can highlight how communities are learning to live alongside wildlife and manage potential sources of conflict, as well as showcasing the benefits conservation can bring them, including job creation and access to economic opportunities through tourism. In this way it can help change the narrative away from competition between humans and wildlife and towards cooperation and interdependence. 
Wildlife protection. The survival of many iconic wildlife species of Uganda, such as endangered Mountain Gorillas, elephants and chimpanzees, is at risk. There are many people in Uganda devoting their lives to protecting these species, from rangers to vets and volunteers, and reporting on their work can inspire others to follow. Reporting on wildlife protection can promote sustainable change, contributing to the long-term preservation of Uganda's unique and irreplaceable ecosystems. 
Wildlife crime. By publicising instances of wildlife crime, its scale, and the negative impact it has on the livelihoods of Ugandans, media can educate citizens on the importance of protecting wildlife. Wildlife crime includes the poaching and trafficking of endangered species as well as illegal bushmeat hunting and trading. The media can hold the authorities to account for failing to prevent crime, while investigating and exposing criminal networks behind the illegal wildlife trade. But it can also be a catalyst for government action and policies, such as the Uganda Wildlife Act 2019, that provides tough monetary fines and stringent custodial sentences for wildlife-related crimes, increasing the likelihood of catching and prosecuting offenders. 
Habitats and environment. Uganda has 10 national parks, 12 reserves, and 15 wildlife sanctuaries, covering over 10% of the country's total land area. If we want to ensure these habitats are sustainable, creating an understanding of the importance of preserving natural resources is vital. By sharing scientific research and habitat conservation efforts with a broader audience, media can also inspire collaboration and innovation in the field. Reporters can also hold the authorities to account for actions that threaten important wildlife habitats. With greater consciousness, we can make more informed decisions at every level of society, making better individual to national choices that can lead to positive environmental outcomes. 
Wildlife photography. Photographers can capture valuable images, such as a newborn baby gorilla spotted in the dense forests of Bwindi Impenetrable National Park. These images can be used to monitor wild animal populations, track changes in habitat, and identify threats to their survival. Photographers also play a vital role in raising awareness of the challenges that wildlife faces. They can capture striking images which can be used to build empathy among the public and inspire action to combat issues like human-wildlife conflict. Furthermore, photojournalists can provide a nuanced perspective on the complex issues facing wildlife and their habitats. For instance, they can document the effects of climate change on Uganda's wildlife, such as droughts and floods that damage animal populations and their habitats. These images can help inform public opinion about the impacts of climate change on communities and wildlife, and promote conservation efforts to mitigate its effects.
The media in Uganda is essential to protecting the country's wildlife. Their work serves as a reminder of how influential journalists can be in promoting the protection of biodiversity and of the need to acknowledge their contributions. 
If you are a conservation journalist in Uganda, don't miss out on this opportunity to showcase your work and make a difference. Enter the Uganda Conservation Media Awards and help to protect the future of Uganda's natural heritage. The closing date for the 2023 awards is 31st May 2023.