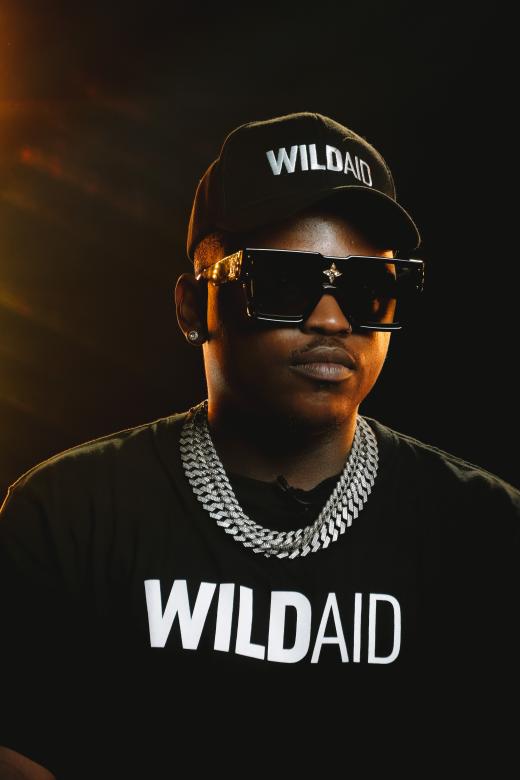 WildAid is delighted to announce that South African born rapper and global amapiano superstar Focalistic, has joined forces with WildAid becoming one of our newest global wildlife ambassadors. Focalistic will lend his voice raising awareness to protect wildlife populations and encourage audiences to appreciate that the true value of wildlife lies in keeping it alive.
WildAid, Rockstar, and OAS1SONE are bringing together over 25 Africa superstar singer-songwriters, alongside more than 300 of some of the most powerful, influential superstar WildAid ambassador personalities from across the world, in a historic first-ever a world tour series of Premium Livestream Concerts, #MusicForWildlife, to lend their voices in support of Africa's wildlife conservation, raise awareness for climate change, and have their messaging, voices, music and live performances broadcast across several pan African and global platforms.
Focalistic, is a South African rapper and global Amapiano superstar. Focalistic was a footballer prior to pursuing a music career. In 2016, he won Artist on Rise competition. His single "Fak'mali" debuted number 1 on YFM Hip Hop music charts. In early 2020, he established his own record label 18 Area Holdings in partnership with The Vth Seasons. On April 10, 2020, his Extended Play Quarantined was released. In April 2020, his single "Ke Star" featuring Virgo Deep was released. "Ke Star" was certified gold with sales of 25 000 copies. In February 2021, his remix "Ke Star", featuring Davido and Virgo Deep was released globally. The single received enormous international success and charted at number 16 on Billboard Top Triller Global chart in the U.S. At 2021 All Africa Music Awards he received seven nominations in the Best male artiste, Artiste of the Year, Best African collaborations, Best Artiste African dance, Best Artiste in African Electro, Break out artiste of the year, Song of the Year.
For media inquiries please contact us here