The Pemba Channel in Tanzania is home to key sea turtle nesting sites, numerous endangered species including sea turtles, dolphins, and sharks, and some of East Africa's most diverse coral reefs. It's home to IUCN red-listed species, including four species of sea turtles, Indian Ocean humpback dolphins, humphead wrasse, bumphead parrotfish, and blacktip reef sharks.
This area holds immense cultural and economic importance for thousands who depend on healthy fisheries and coastal tourism for survival, including 400,000 people living on Pemba Island and 18,000 fishers that depend on fishing as their livelihood. Unfortunately, rampant illegal fishing seriously threatens the health of fish populations and other endangered marine species.
In 2019, WildAid Marine partnered with Marine and Coastal Community Conservation Zanzibar, a network of communities that manage their coastal resources, to strengthen enforcement in the region and protect Pemba's marine life.
Read more about WildAid's impact in Tanzania here.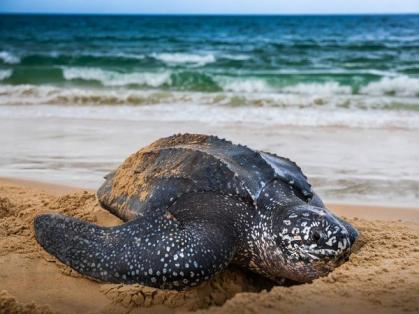 Gabon's waters are home to the world's largest nesting population of leatherback sea turtles, critically endangered humpback dolphins, humpback whale calving grounds, and over 60 species of sharks and rays.
Legal fisheries contribute $1.3 billion to the Gabonese economy, which is around 9% of the Gabonese Gross Domestic Product (GDP), while small-scale fisheries alone contribute $800 million to the total economy.
WildAid Marine launched a new project at four pilot sites in Gabon's coastal marine protected area (MPA) network in 2018 to pave the way for improved enforcement throughout the region.
Read more about WildAid's impact in Gabon here.